7 Things For Families To Do In Glenwood Springs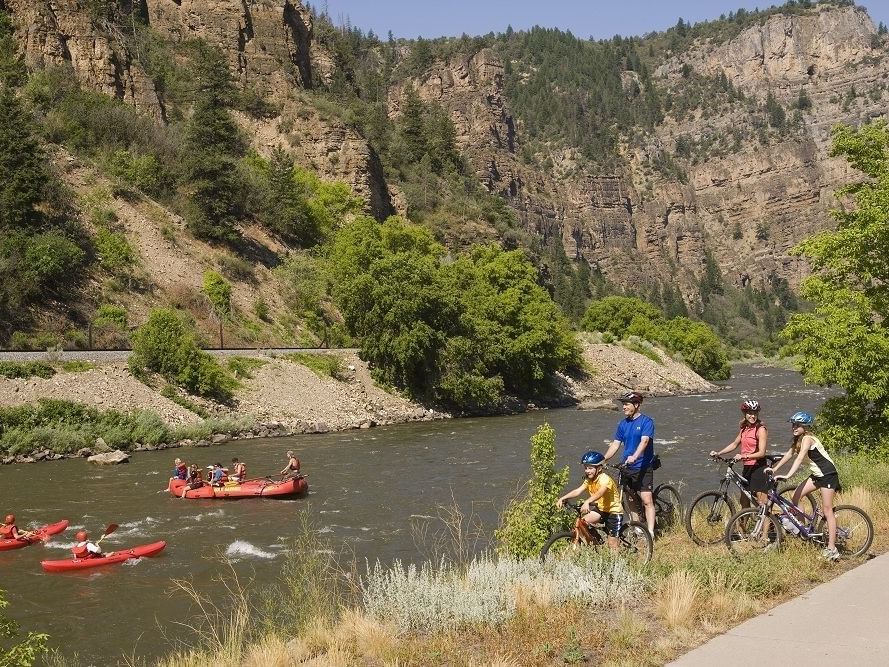 Tucked in the heart of Colorado's Western Slope, Glenwood Springs is the best little mountain town you haven't visited yet. If you're vacationing to Glenwood Springs, here are some things you should check out.
1. Hanging Lake Trail
Just east of town, off of Interstate 70, Hanging Lake is world famous for its waterfall and pristine water. The hike is steep, but short, with solid handrails on the trickiest parts and a boardwalk around the lake to sit and enjoy the scenery.
Parking fills up quickly in the summer, but there's a shuttle service from Glenwood Springs planned, and you can generally find emptier trails if you're willing to get up earlier. You can hike the trail in the winter, too — Bridal Veil Falls are breathtaking when they freeze over — but the trail gets icy, so bring spikes on your shoes and be careful!
2. Glenwood Hot Springs Pool
Glenwood Hot Springs Pool is the largest naturally heated pool in the world — the hot springs in Glenwood Canyon have been attracting visitors for over 100 years. The water comes out of the spring at 122 degrees, but it's cooled down to 104° for the 3000-square-foot therapeutic pool and even further to a comfortable 90° in the enormous, 30,000-square-foot main pool.
Glenwood Hot Springs Pool also offers water slides and diving boards for the kids, or bubble chairs and submerged benches if you're in the mood for some splash-free relaxation.
3. Iron Mountain Hot Springs
Iron Mountain Hot Springs is new on the scene, offering a more secluded, quiet hot springs experience than Glenwood Hot Springs Pool. 16 pools range in temperature from 98 to 108°, allowing you to pick the temperature and wellness experience that suits you best.
Around the pools are idyllic landscaping, footpaths, and a soothing waterfall, with views of the Colorado River, Red Mountain, and Mount Sopris from anywhere you choose to sit.
4. Sunlight Mountain Ski Resort
With 700 skiable acres and 2000 feet of elevation, Sunlight is one of the Colorado ski scene's best-kept secrets. Just 15 minutes south of Glenwood Springs, Sunlight offers terrain for all skill levels, from the meandering slopes on the west side of the mountain to the East Ridge — the steepest lift-accessed terrain in Colorado — and the trees, moguls, and groomed snow in between.
5. Glenwood Caverns Adventure Park
Note: Glenwood Caverns Adventure Park is closed from November 2018 to mid-March of 2019 for a tram replacement project. It'll be open again just in time for spring break!
Perched on top of Iron Mountain, looking over the town of Glenwood Springs, is the Glenwood Caverns Advneture Park. Incredible views, thrill rides, dining, and cave tours await!
Take a tour of the intricate Fairy Caves — a cool 52° year round, making them a welcome break from the summer's heat or winter's cold. You can learn about all the intricate cave features that have been forming for millions of years on a 40-minute walking tour, or get up close and personal with a three-hour Wild Tour.
Feel like some adrenaline? Try the Alpine Coaster, which zooms on stainless steel rails for over a mile down the west side of the mountain through scrub oak and juniper trees, or take a spin on the Giant Canyon Swing, which suspends riders over 1000 feet over the Colorado River!
6. Hiking and Biking
If the weather is nice, rent some bikes downtown and check out the paved trails that wind through Glenwood Canyon or up the Roaring Fork Valley toward Carbondale. Or take a trip off the paved road with miles of off-road rides that climb thousands of feet above the valley and finish with a hair-raising descent into town.
If you'd rather be on your own two feet than two wheels, there are dozens of hiking trails in the Glenwood Springs and Roaring Fork Valley areas, from easy day trails to more challenging ones up above tree line. Head up to Thomas Lakes, or even take a full day and summit Mount Sopris!
7. Explore the Canyons and Rivers
The Colorado and Roaring Fork rivers combine in Glenwood Springs, and both of them offer some of the best water-based recreation in the state. If you want a relaxing day, you can take a raft trip on the flatter sections of water, or get your blood pumping with whitewater rafting or kayaking tours.
If you and your family want to catch some fish, you've come to the right place! Upvalley a little way from Glenwood Springs is the Frying Pan River, which is consistently considered some of the best trout fishing territory in the state.
No matter what you do, you'll probably have great weather for it. Glenwood Springs gets 300 days of sunshine a year, so it's the perfect town to enjoy the outdoors! If you're unlucky enough to get caught in the rain, though, Glenwood Springs also offers plenty of dining, shopping, art galleries, coffee shops, and other activities to keep you busy no matter the weather!