4th Quarter Employee of the Quarter (Front of House) - Alta Biggs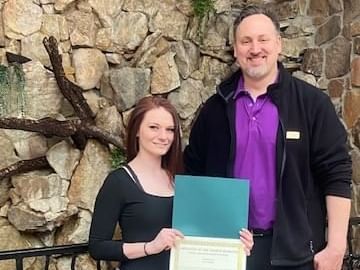 The Hotel Colorado is excited to announce our Employee of the Quarter Fourth Quarter 2022 Front of House is Alta Biggs, Food & Beverage Supervisor! Ms. Biggs has been employed at Hotel Colorado for almost a year and a half. Her first paying job was a paper route. Painting is her favorite hobby. In fact, her idea of a perfect day is spending the day having fun with her children and then painting that night. Her favorite place to be is Vedauwoo, WY.
Alta was nominated for taking her position to a new level. She is always working on an organizational project or cleaning project even when she is busy on the floor. Alta also does fun things for her staff like hiding miniature bunnies for them to find.
Thank you, Alta, for being such a valuable member of our Hotel Colorado Team! We are happy to honor your great work ethic!