5 Ways to View Fall Colors in Glenwood Springs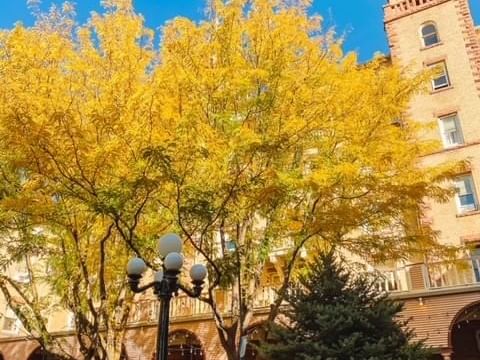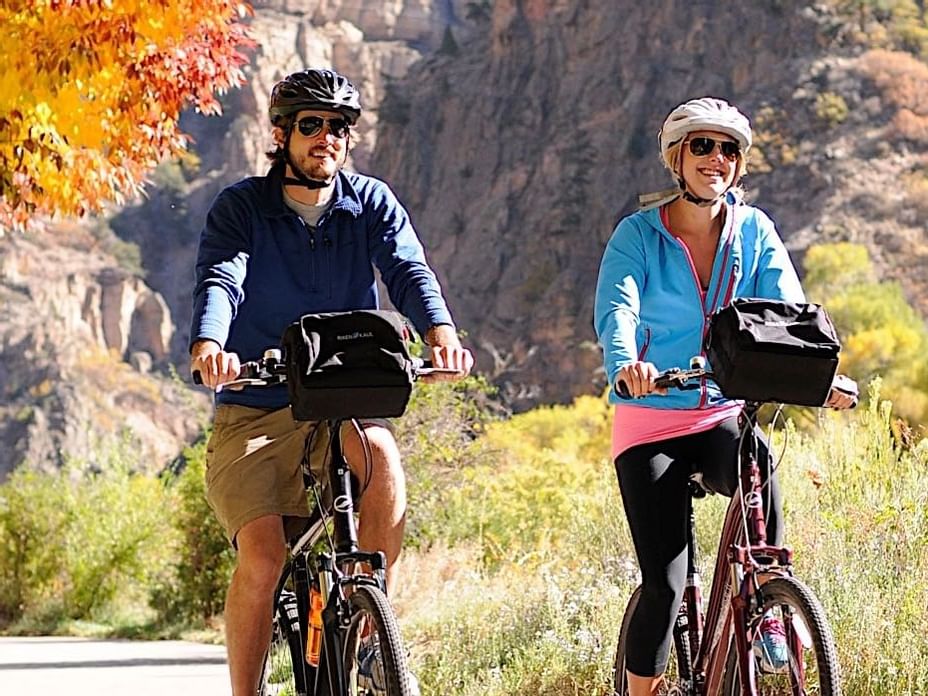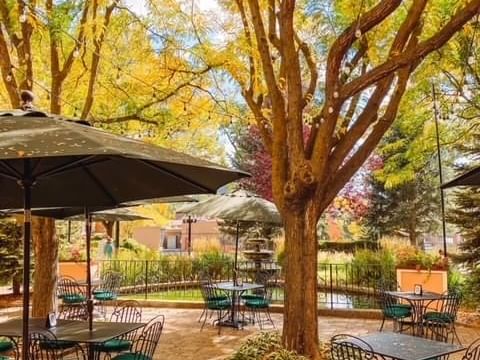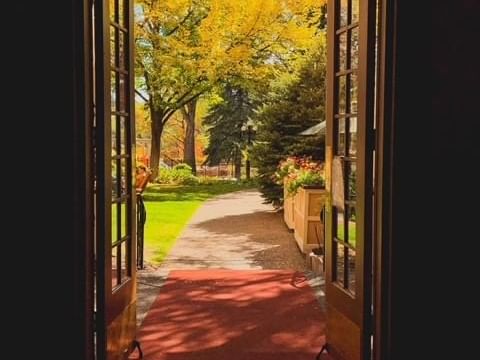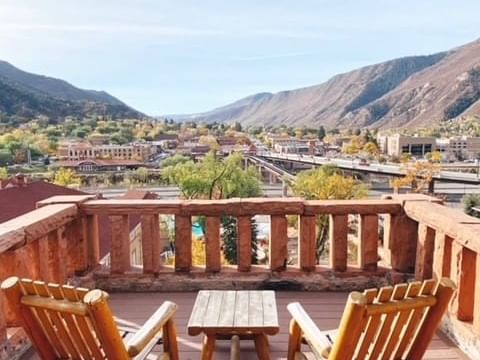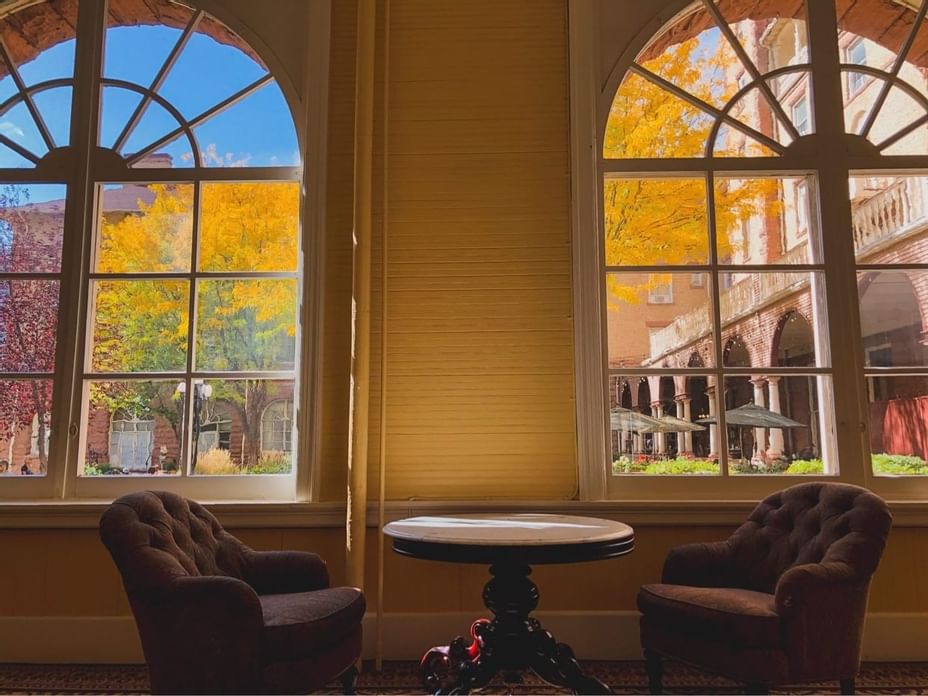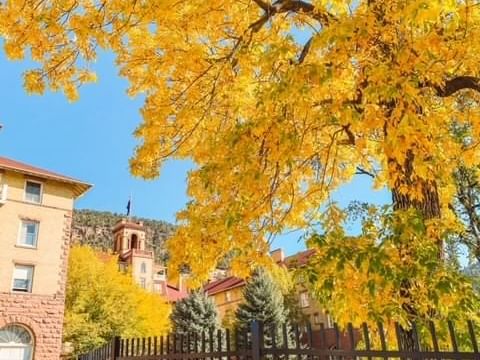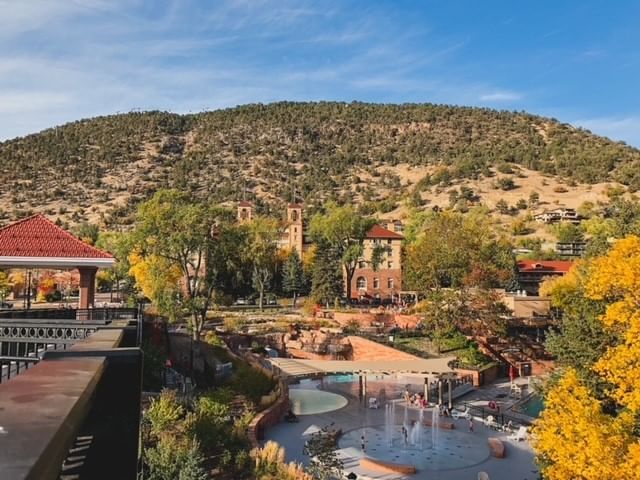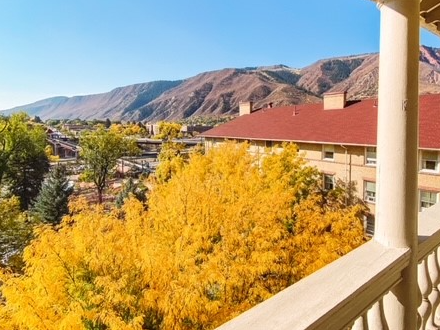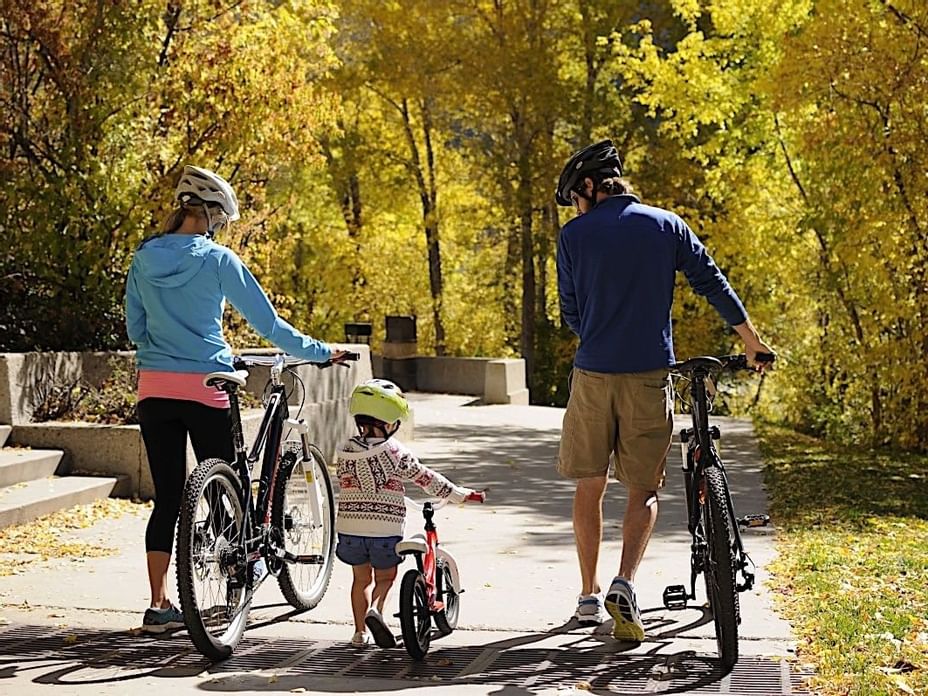 Fall color drives get the most press, but Glenwood Springs has many more methods of exploring and admiring fiery-colored foliage.
Sit. Become part of a postcard-pretty autumn milieu in the courtyard at Hotel Colorado. The historic structure acts as a backdrop to mature trees, climbing ivy, and beautiful landscaping that ignite the space in warm-toned hues every fall. For more seasonal ambiance, get cozy in an Adirondack chair hewn from logs. When the temperature dips, gather around firepits to stay toasty or order warming drinks like an old fashioned or Manhattan from the Hotel Colorado Restaurant & Bar.
Soak. Contemplate nature's seasonal marvels from a perch in the geothermal waters at either Glenwood Hot Springs Resort or Iron Mountain Hot Springs. A mineral soak is not only the perfect antidote to stress, it's also the best seat in the house for relaxing into autumn. Gambel oak, more commonly called oak brush, is a native Colorado plant predominant on the hillsides around Glenwood Springs. The foliage stands out in fall as leaves turn every shade of red, orange and gold.
Hike. The incoming cooler weather is prime for hiking, and you don't have to go far for a workout with a rewarding view. Red Mountain Trails are just a short drive from Hotel Colorado. From the parking lot, you have two options: Jeanne Golay Trail affords a gentler incline while Cross Trail is a steeper singletrack ascent. Both will get you to the summit where panoramas unfold beginning with the Roaring Fork Valley below and stretching to Mt. Sopris bedecked with a fresh crown of snow in the distance.
Bike. Pedal power is the way to see fall colors along Glenwood's two rivers. The Glenwood Canyon Recreation Path takes riders along the Colorado River and into Glenwood Canyon; the Rio Grande Trail follows the Roaring Fork River. If you're lucky, you might spot some local wildlife. The canyon is home to a herd of bighorn sheep—look for them near Horseshoe Bend. On the Rio Grande Trail heading south, keep an eye out for large herds of elk relaxing in the meadows between Glenwood Springs and Carbondale.
Drive. Cover the most ground with a fall color drive. One of the most highly acclaimed routes begins in Carbondale, just 10 miles south of Glenwood Springs. Follow Highway 133 toward Redstone and over McClure Pass. Highlights along the way include the Crystal River, Hays Falls, Redstone Castle and Chair Mountain. As you traverse up McClure Pass, huge groves of aspen in every shade of gold will take your breath away. Take advantage of roadside pullouts for Instagram-worthy fall images.
Whether you prefer to relax in the hot springs or hit the trails and highways, Hotel Colorado in Glenwood Springs is your Colorado leaf-peeping headquarters. Learn more and book your Hotel Colorado fall vacation today.