Fall Bliss: Hotel Colorado & Glenwood Hot Springs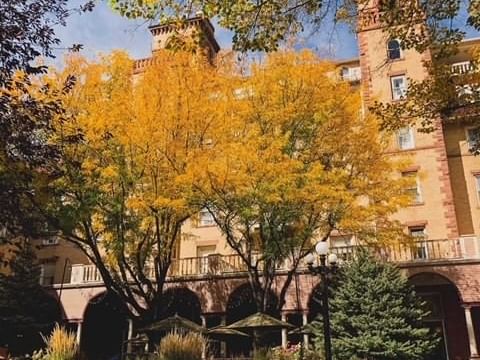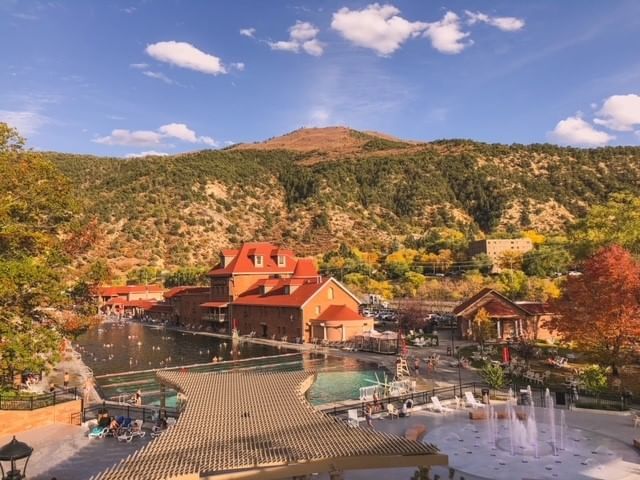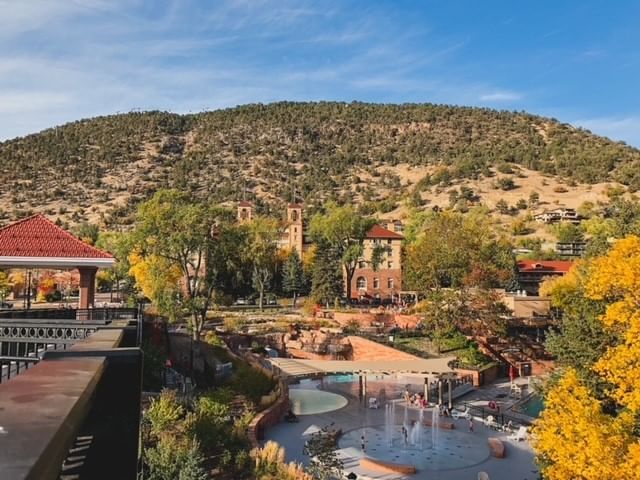 Fall is all about the feels—pumpkin spice lattes and sweater weather; leaf-peeping drives and apple picking excursions; football games and turkey with all the trimmings. In Colorado, another classic autumn combo you won't want to miss—a fall-time stay at historic Hotel Colorado in Glenwood Springs with soaking at the one-and-only Glenwood Hot Springs Pool included!
Fabulous Fall Scenery
Hotel Colorado is cozy and inviting. Just step inside the lobby and you'll see what we mean. Soak in the ambiance in tall wing-back chairs that face elaborate stone fireplaces. Or, take a seat on one of several tufted couches or leather club chairs with views of the grand staircase and a gigantic reproduction of the painting of the Birth of Venus by Sandro Botticelli. Richly colored tapestries, historic photographs of famous past guests and mounted trophies of native big game animals adorn the walls and add to the warm atmosphere.
Outdoors, guests can warm up at firepits placed around the courtyard. The hotel's s'more making kits have everything required to make these classic campfire treats while sitting around the fire. Enjoy breakfast, lunch and dinner at the Hotel Colorado Restaurant & Bar which has a new fall-themed menu that makes the most of the season's fresh offerings and flavors. For a light breakfast, a mid-day snack and a perfectly brewed cup of java, pop into Legends Coffee Bar & Gift Shop.
Seasonal Soaking
For the quickest route to total relaxation this fall, indulge in a long, hot soak in the geothermal waters of Glenwood Hot Springs Pool. The world's largest hot springs pool is located across the street from Hotel Colorado. Massive in scale, it features two pools. The larger one is so big—as long as a city block— you can actually go for a stroll in it! Of course, you can swim laps and jump off the diving board too. The water is a comfortable 93°F, similar in temperature to a soothing bath. The smaller, Therapy Pool, is a toasty 104°F, let the hot water and minerals go to work teasing out tension from knotted muscles.
Because of the pandemic, COVID guidelines recommend that guests come ready to soak and, afterward, shower off-property. Within such close proximity to the hot springs, that's an easy and convenient directive for Hotel Colorado guests to follow.
Two Packages Tie It All Together
We've bundled the best of fall with two packages, both available year-round, that include overnighting at Hotel Colorado and soaking at Glenwood Hot Springs.
• Splash & Crash. Just like it sounds—play all day in the healing hot springs and at the end of the day turn in at Hotel Colorado.
• Weekday Getaway. A great value that makes the most of off-peak travel times. Package includes breakfast, admission to the Hot Springs Pool and a stay in one of our well-appointed guest rooms.
Fall will be over in a hurry. Don't wait to cross the fun stuff off your fall bucket list. Make reservations to stay at Hotel Colorado and soak at Glenwood Hot Springs Pool today.