March 2021 Employee of the Month - Ivy Durand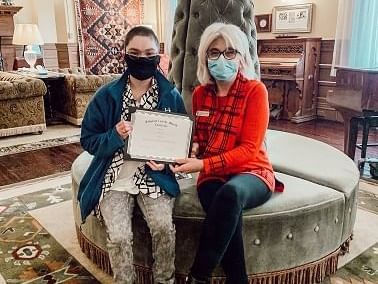 Hotel Colorado is proud to announce our Employee of the Month for March is Ivy Durand, Night Auditor and Front Desk Agent. Ivy has been an employee at Hotel Colorado for over a year.
Ivy's favorite kind of music is electric swing. Employees and guests alike are impressed with Ivy's stickers they design themselves and hand out.
Ivy was nominated for Employee of the Month for their flexibility in picking up, covering, and changing their shifts, always volunteering for extra tasks and their assistance in training two new hires. Ivy was lauded for their friendliness to both guests and coworkers and their ability to handle issues well and thoughtfully. It was noted that Ivy was always positive and willing to jump in and help when needed.
Thank you, Ivy Durand, for being a wonderful team member and excelling at customer service! It is our pleasure to elect you Employee of the Month for March! You are very deserving of this award!