Romance In The Rockies — 12 Ideas for Couples In Glenwood Springs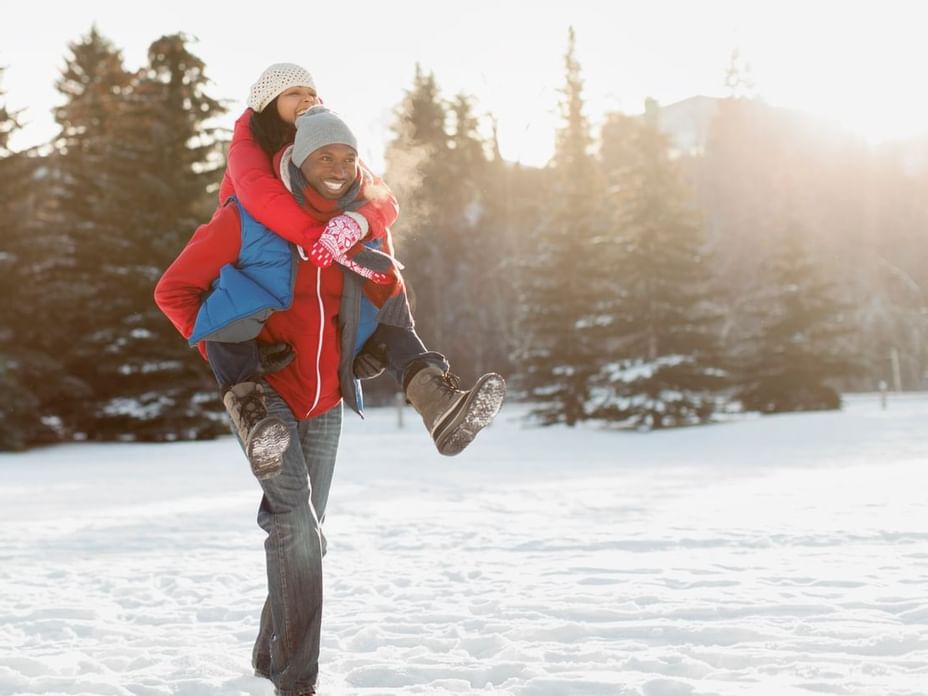 So you've booked your romantic getaway to Glenwood Springs — whether it's a birthday, anniversary, or holiday, a few days in this little mountain town will do wonders for your relationship. But what are you going to do the whole time? Don't worry, we've got ideas.
Go For A Soak At The Glenwood Hot Springs Pool
If you think of one thing when you think of Glenwood Springs, it's probably the enormous Glenwood Hot Springs Pool. It's been around for over a hundred years and, at over 30,000 square feet, it's the largest naturally heated pool in the world.
The water is fed in from one side, so that's where it's hottest — a steamy 104 degrees, complete with benches and chairs with jets, that will loosen your muscles and open your pores. If you prefer a slightly cooler experience, the main pool is kept at a balmy 90 degrees and features a diving board and exercise lanes.
Glenwood Hot Springs Pool is also equipped with a spa, offering massages, facials, body wraps, and two unique rituals inspired by the Ute tribes that used to use the hot springs for medicinal purposes hundreds of years ago.
Steam Your Stress Away in the Yampah Caves
Located just up the road from the Glenwood Hot Springs Pool, the Yampah vapor caves are the only known naturally occurring vapor caves in North America — all the rest were excavated.
Hot, mineral-infused waters flow through the limestone at the floor of the caves at a simmering 125 degrees, heating the inside of the cave to 110 degrees and filling it with mineral-rich steam that will relax and soothe you. A nearby cooling room allows you to rest in between steam sessions, or you can take a dip in small tubs and pools inside the caves.
In addition to the vapor caves, Yampah offers a complete range of spa treatments — massage, facials, herbal body treatments, private natural mineral baths and salon services.
Take Some Time To Yourselves At Iron Mountain Hot Springs
Iron Mountain Hot Springs is relatively new to Glenwood Springs, having just opened in 2015. The facility consists of 16 individual pools, heated to a range of temperatures from 98 to 108 degrees by the natural hot springs at the base of Iron Mountain, so you can customize your bathing experience to your liking.
Iron Mountain Hot Springs also offers on-site meals, snacks, and refreshments and is open year-round — heated walkways and native landscaping connect the pools and make for a quieter, more relaxing experience while you watch the sunset over Red Mountain.
Get The Blood Pumping
Exercise is good for your body and your mind — it decreases blood pressure, increases heart health, and releases endorphins that will reduce stress and improve your mood. If you and your partner are the adventurous type, Glenwood Springs is the perfect place to be!
Hanging Lake is located just east of Glenwood Springs, a 15-minute drive from Hotel Colorado, and is a sight to behold. Hike the short-but-steep trail in the summer to see local wildlife and enjoy the Colorado sunshine, or brave it in the winter to see Bridal Veil Falls in their beautiful, frozen glory. The trail gets slippery in the winter, so spikes on your shoes are a good idea.
Red Mountain is also a great hike, climbing right out of downtown Glenwood Springs and rising up 1600 feet above town on switchbacked dirt roads. From the top, you'll have spectacular views of the whole city of Glenwood Springs, as well as up-valley to the "monarch of the valley," Mt. Sopris.
Speaking of Mt. Sopris, if you're really up for an adventure, you can test your mettle on the world's highest twin peak! Mt Sopris is the most prominent feature of the entire Roaring Fork Valley and a true challenge for those that want to hike it. Hike from the trailhead to the idyllic Thomas Lakes, about four miles in and 1500 feet up, or press on to the summit, another three miles and 3,000 feet of elevation gain.
If you're looking for something a little more low-key, rent some bikes! Glenwood is a great town to get around in by bicycle, and there are several local shops that rent them. You can even ride up-valley to Carbondale and beyond on the Rio Grande Trail, 42 miles of trail that's completely protected from vehicles. Or head east through the towering red cliffs of Glenwood Canyon on the Glenwood Canyon Recreation Trail, which meanders 14 miles along the Colorado River.
Grab A Bite To Eat
All this adventuring will probably work up an appetite — good thing Glenwood Springs has tons of restaurants to choose from! From casual outdoor dining and brewpubs to cafes and grills, You can find whatever you're craving within walking distance of downtown.
If you're looking for a more intimate setting, Try the Pullman, located just across the river from Hotel Colorado. The Pullman serves modern American food in a comfortable setting.
If you're visiting Glenwood Springs in the summer, check out the Rivers restaurant, which boasts patio dining that practically overhangs the Roaring Fork River, with spectacular views up and down the valley. Take in the sights while you dine on fresh fish, seafood, steaks, or lighter fare.
No matter what you're celebrating, Glenwood Springs is the perfect getaway for you and your partner. Eat, drink, adventure, and be merry — Glenwood Springs has it all!