The 5 Best Hot Springs Destinations In Western Colorado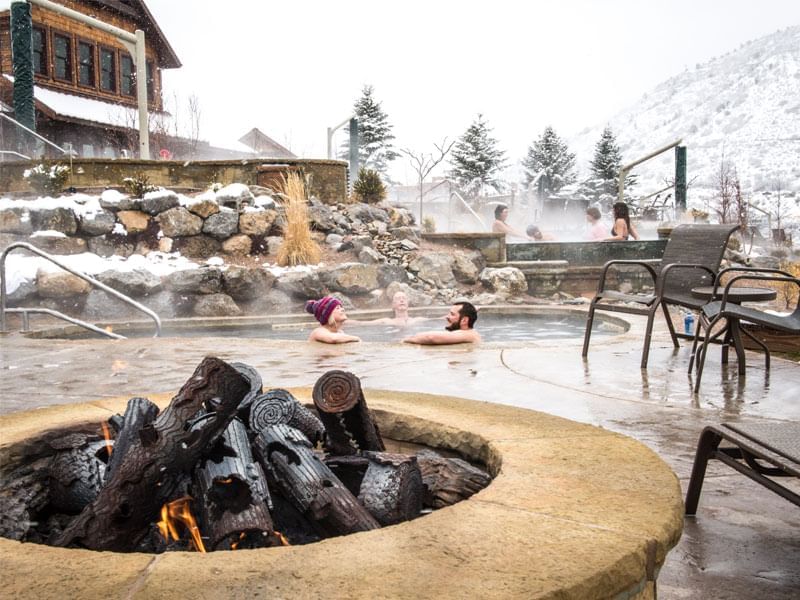 If you're looking for a relaxing soak in a hot pool of mineral-rich water, Colorado is the place to be. Due to the lucky combination of several different geological factors, Colorado is a literal hotbed of natural hot springs scattered all over the state.
With its clean mountain air, breathtaking views, and prime location, Glenwood Springs is the perfect home base for your hot springs adventures in western Colorado. From Glenwood Springs, you'll be within close driving (or even walking) distance of some world-class resorts, hidden hot springs gems, and so much more.
Why Does Colorado Have So Many Hot Springs?
A rough estimate is that Colorado is home to 93 developed and undeveloped hot springs — and there are probably a few more hidden in the mountains that no one knows about. Neighboring Nebraska, by comparison, doesn't have a single one. So how did we get so lucky?
Several hundred million years ago, Colorado was mostly buried at the bottom of an inland sea. Between 170 million and 40 million years ago, massive upheavals in the tectonic plates pushed the rock upward and created the Rocky Mountains — some of the "youngest" major mountains in the world.
All that chaos in the Earth's crust left lots of cracks and seams in the rock. Combine that with the porous limestone and sandstone that was deposited at the bottom of the inland sea, and you've got a series of fractures and faults that water can move through relatively easily.
Rainwater seeps down into deep aquifers, picking up calcium, sulfur, and other minerals on its way down. The deeper it goes, the more heat it picks up from the Earth's mantle. When it gets hot enough, it's pushed upward through weak areas in the rock to emerge, piping hot and ready for your enjoyment.
1. Glenwood Hot Springs Resort
Glenwood Hot Springs is the crown jewel of all of Colorado's hot springs. Constructed in 1888, the main pool holds over a million gallons or mineral-rich water and is the largest naturally heated pool in the world — and that's not even counting the smaller soaking pool.
The water that feeds the Glenwood Hot Springs Pool comes out of the ground at a scalding 122 degrees — too hot for comfort — so it's cooled down to a steamy 104 degrees for the soaking pool. 3.5 million gallons of water flow out of the springs every day, refreshing the water in the pools every six hours.
The main pool is kept at a slightly cooler 93 degrees — warm enough to keep you cozy, but not too hot for kids to splash around in. The big pool also features a diving board and lap lanes.
In addition to the pools, Glenwood Hot Springs Resort is equipped with a spa offering massages, facials, body wraps, and two unique rituals inspired by the Ute tribes that used the springs for medicinal and ritual purposes hundreds of years ago.
2. Yampah Vapor Caves
Just up the street from the Glenwood Hot Springs, the Yampah Vapor caves offer a completely unique and different experience. These caves are the only known natural vapor caves in North America — all the rest were excavated.
The Yampah Caves are located right on top of the same spring that feeds the Glenwood Hot Springs Pool, so the water flows through channels on the floor at a simmering 125 degrees — but you don't soak in it. Instead, the water heats the cave to 110 degrees, filling it with mineral-rich steam and transforming the caverns into a kind of natural sauna.
If the heat starts to feel like too much, there's a cooling room nearby where you can take a break, or you can take a dip in small tubs and pools inside the caves. The Yampah Caves also offer a complete range of spa services, including massages, facials, herbal body treatments, private mineral baths, and salon services.
3. Iron Mountain Hot Springs
Iron Mountain Hot Springs is new on the scene, having just opened in 2015. Rather than one big pool, the facility consists of 16 smaller pools of varying temperatures, separated by walkways, staircases, and native landscaping to create an intimate, natural setting. The pools vary in temperature from 98 to 108 degrees, so you can customize your soaking experience to your liking.
Iron Mountain also offers a family pool, measuring 73 by 35 feet and heated to a comfortable 93 degrees so little ones can splash around comfortably without disturbing other bathers. Just above it is a smaller, 100-degree pool where parents can relax while keeping an eye on the kids.
Want to learn more about Iron Mountain Hot Springs? Check out our blog!
4. Avalanche Ranch Hot Springs
Want to get a little farther off the beaten path? Just 25 miles south of Glenwood Springs, near the tiny town of Redstone, is Avalanche Ranch Hot Springs.
Tucked into the dramatic Crystal River Valley, Avalanche Ranch features three separate pools arranged in a tiered layout. The pools are separated enough that visibility is limited from one to the next, creating a more intimate setting, and each pool cascades into the next, oxygenating and supplementing the mineral-rich water. In the bottom pool is a 3-foot waterfall, which forms a warm screen of water in front of a rock grotto.
Avalanche Ranch also offers bathing suit and towel rentals, and individual and couples' massages are available with at least 48 hours notice.
5. Penny Hot Springs
If you want a truly bare-bones, uncurated hot springs experience, Penny Hot Springs is exactly what you're looking for. Half an hour from Glenwood Springs, Penny Hot Springs emerges from the bank of the Crystal River and pours directly into the icy-cold river itself.
There's no amenities, no bathroom facilities, no trash containers, and no caretaker, so you'll have to be a responsible bather and be careful to take out everything you bring in. The rock pools are constructed and maintained by the bathers, letting in just enough of the river to keep the temperature comfortable, and the usability of the springs is highly dependent on the level of the river, which fluctuates based on the season.
On the one hand, the lack of facilities, small pool, and primitive nature of the Penny Hot Springs means they're not for everyone — they're certainly not a luxury experience. On the other hand, they're completely free! The feeling of bathing in a truly natural hot spring while looking up at thousands of stars, far from the lights of town, is a once-in-a-lifetime experience.
Stay At Hotel Colorado
What do all these hot springs locations have in common? They're all just a short distance from the Hotel Colorado! Penny Hot Springs and Avalanche Ranch are about half an hour's drive away, while Iron Mountain is only a mile's drive (or a 20-minute walk). And the Yampah Caves and Glenwood Hot Springs Pool are right across the street!
Hotel Colorado even offers lodging packages for Iron Mountain Hot Springs and Glenwood Hot Springs, so you can stay in one of our luxuriously appointed rooms and enjoy some of the best hot springs that western Colorado has to offer. Take a look at our lodging packages here, and book your stay today!