Happy Days: Libations to Try in Glenwood Springs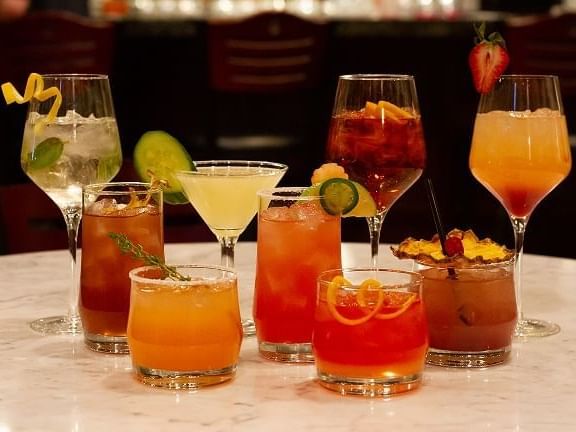 After a day soaking in the pool, exploring the trails, hitting the slopes, or just hanging around town, carry on the vacation vibe with a pre-dinner drink or happy hour cocktail. Hotel Colorado Restaurant & Bar is a great place to start. The hot springs town is also brimming with more options for thirst-quenching adult beverages. Check out our taste-tested guide of where to go and what to sip all around town.
Hotel Colorado Restaurant & Bar
If you're looking for a classic drink in a timeless setting, Hotel Colorado is your go-to for both. The bar, reminiscent of a men's smoking and drinking club, features leather club chairs and vintage photos of polo players circa the early 1900s. Get comfy and raise a toast to enjoying the good life and good company in Glenwood Springs. Try an iconic bourbon-based drink such as the signature Old Fashioned or Cranberry Hot Toddy.
The Pullman
The Pullman's menu features an ever-changing mix of ingredients that fluctuates with the seasons. The same holds true for the drink selections, which often incorporate fresh-farm harvested elements. In fall, Palisade peaches are the star of the show, a good time to try the Peach Old Fashioned. In winter, warm up with Fire and Smoke that mixes mezcal, amaro, orange and elderflower liquors.
CO Ranch House
Another downtown establishment with a hopping bar, CO Ranch boasts a western-themed atmosphere complete with antler chandeliers and antique furnishings. The Blood Orange Lavender Martini is perfect for a sipping starter; it includes Colorado-made vodka, blood orange juice and house-made ginger and lavender simple syrup served in a martini glass rimmed with lavender sugar.
Riviera Supper Club and Scratch Kitchen
Chef Travis Owen keeps the menu and the cocktails fresh and tasty. As the weather turns cold, he turns up the heat with his Colorado Wildfire cocktail. The drink, served in a rocks glass with a rim of sriracha salt, is a creative mix of chipotle-infused tequila, Cointreau, fresh lime juice and raspberry puree finished with a wedge of lime.
Casey Brewing & Blending Taproom
For anyone who just wants to knock back a premium craft beer or two, Casey's offers a selection of award-winning sours, along with IPAs, lagers, stouts and collaboration brews. While the taproom doesn't serve food, visitors are welcome to place an order with surrounding eateries and enjoy their nosh alongside their beer.
Glenwood Canyon Brewpub
Feel right at home at the town's original brewery where beer, food and televised sports invite visitors to relax and stay for a while. Brewmaster Todd Malloy not only churns out perennial favorites like Grizzly Creek Raspberry Wheat, Vapor Cave IPA and Hanging Lake Lager, but also an intriguing selection of rotating seasonal beers. Currently on tap, try the Dotsero Cream Ale, Anticline Altbier and Konversation Kolsch.
Zheng Asian Bistro
For a cocktail that flirts with exotic flavors, you can't beat Zheng's Ginger Martini, a sublime combination of vodka, fresh ginger, lemon and honey—spicy, zesty and sweet at the same time. The martini happens to also blend well with the restaurant's Asian-inspired menus that include Thai food, Chinese wok-fried specialties, fresh sushi and more.
Glenwood Caverns Adventure Park
Starting November 25, kick it old school with Friday Afternoon Club at the adventure park's Lookout Grille, where food and drink specials get the party started every weekend. Live music by talented local artists adds to the social atmosphere.
Cheers to delicious drinks and good times that begin at Hotel Colorado in Glenwood Springs! Learn more and make plans to visit today.