Holidays are a Winter Wonderland for Families in Glenwood Springs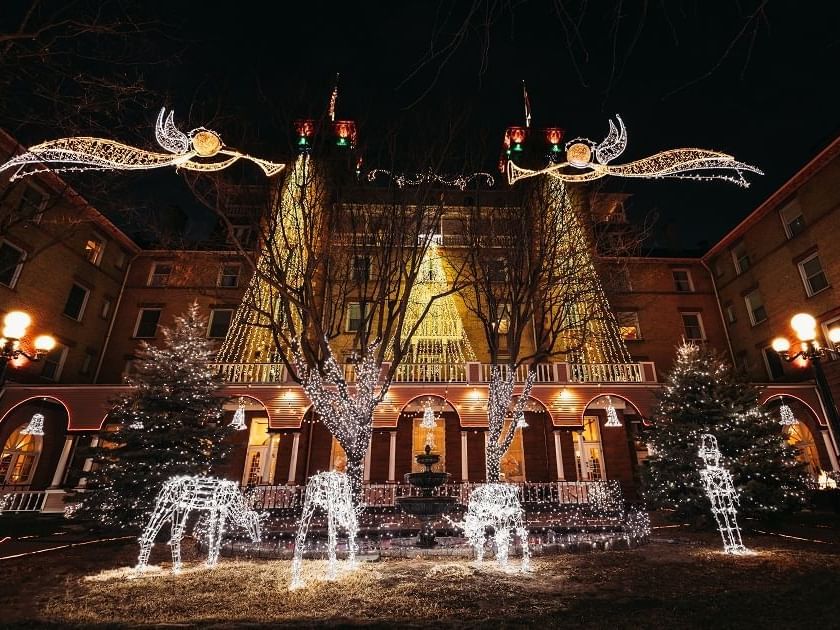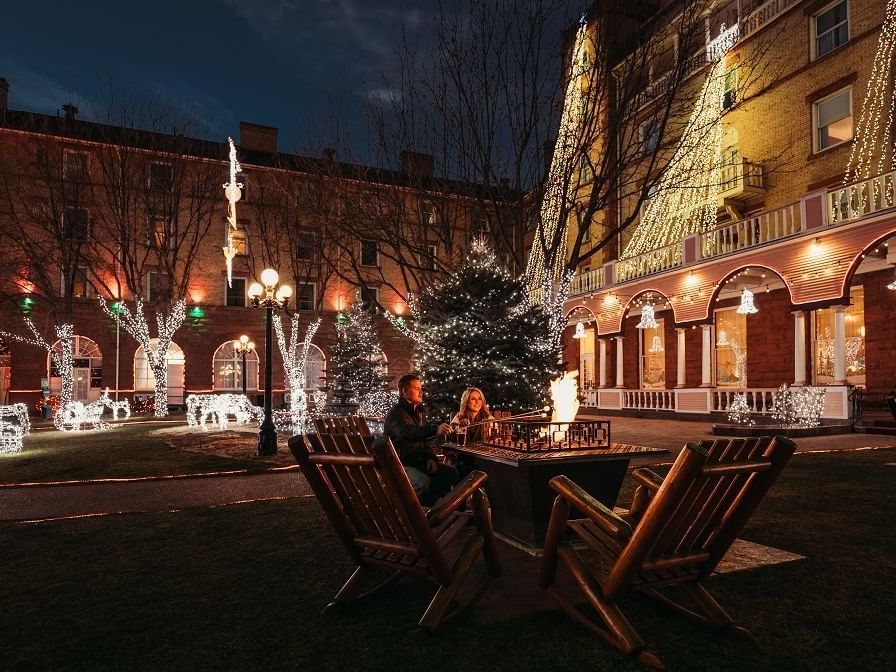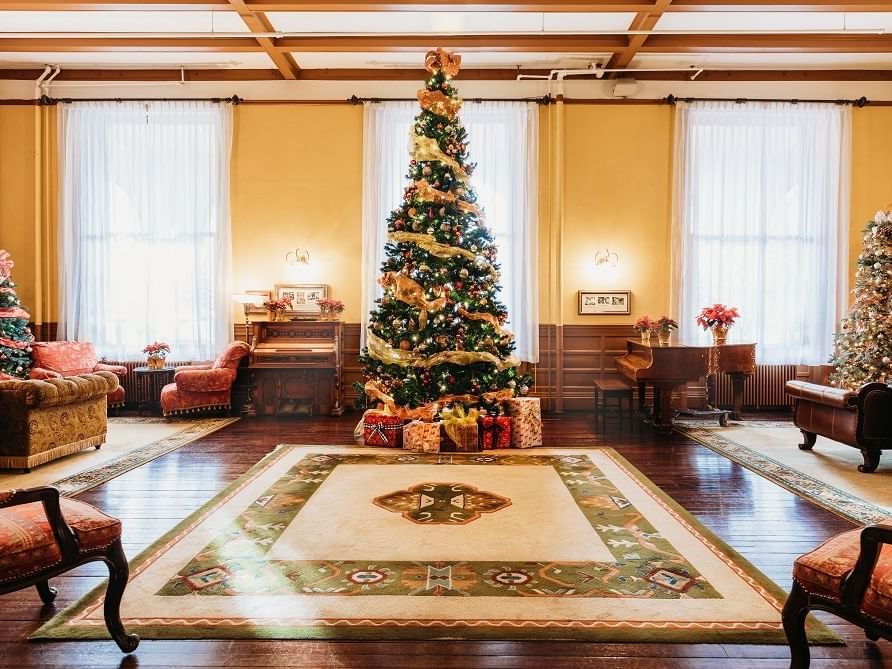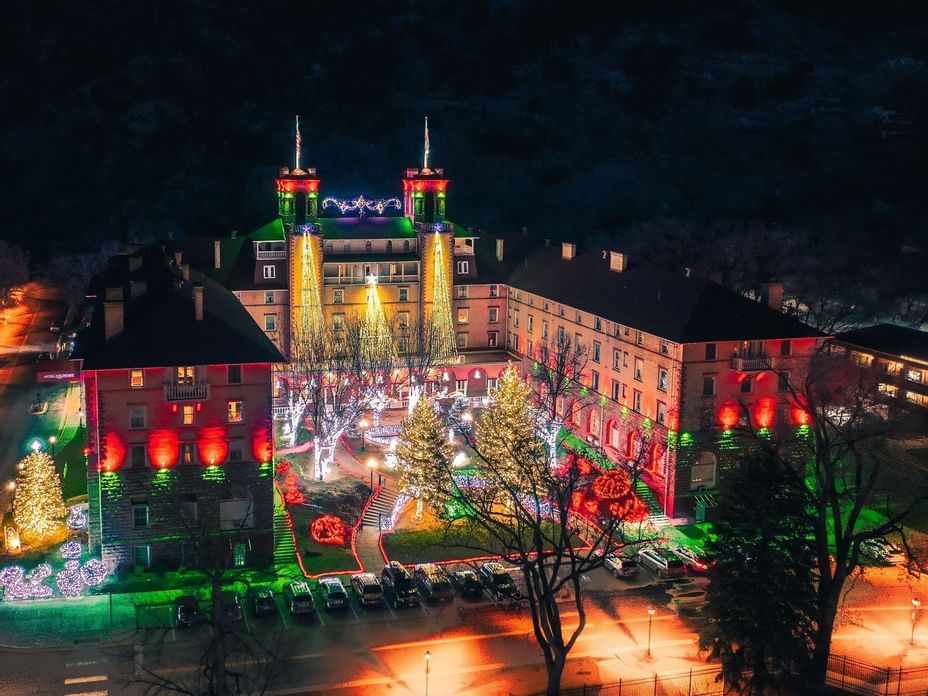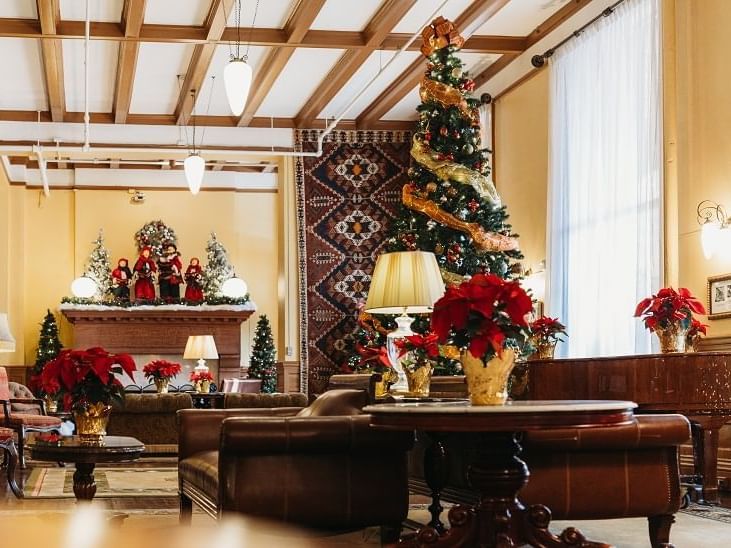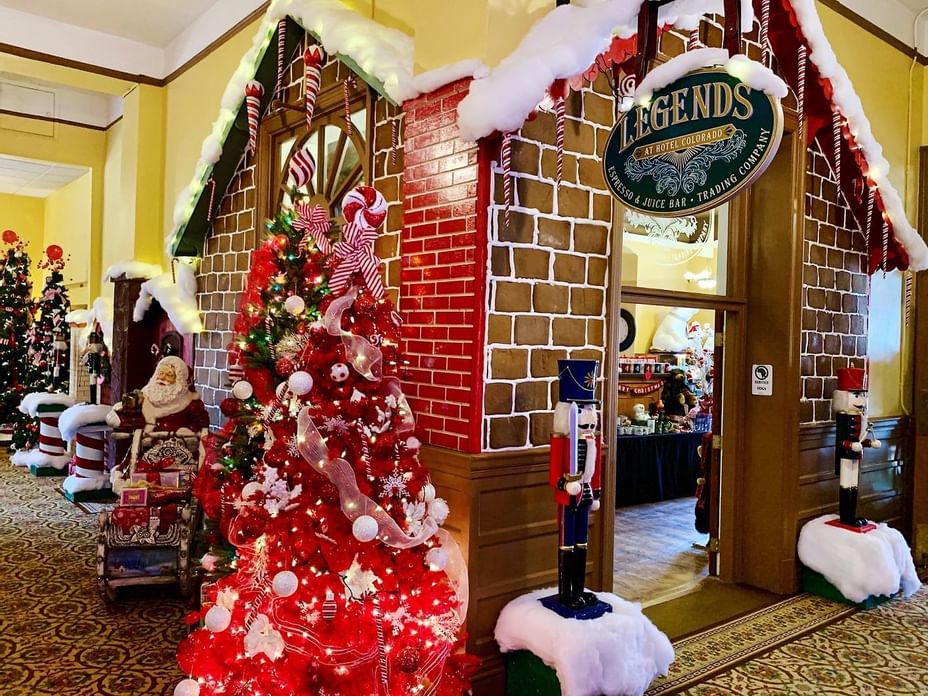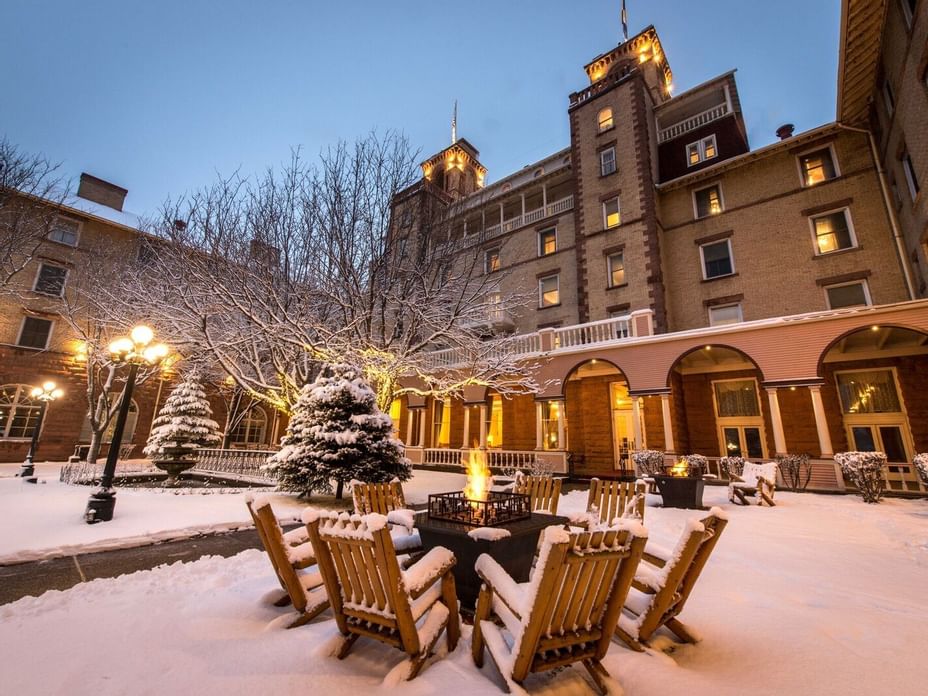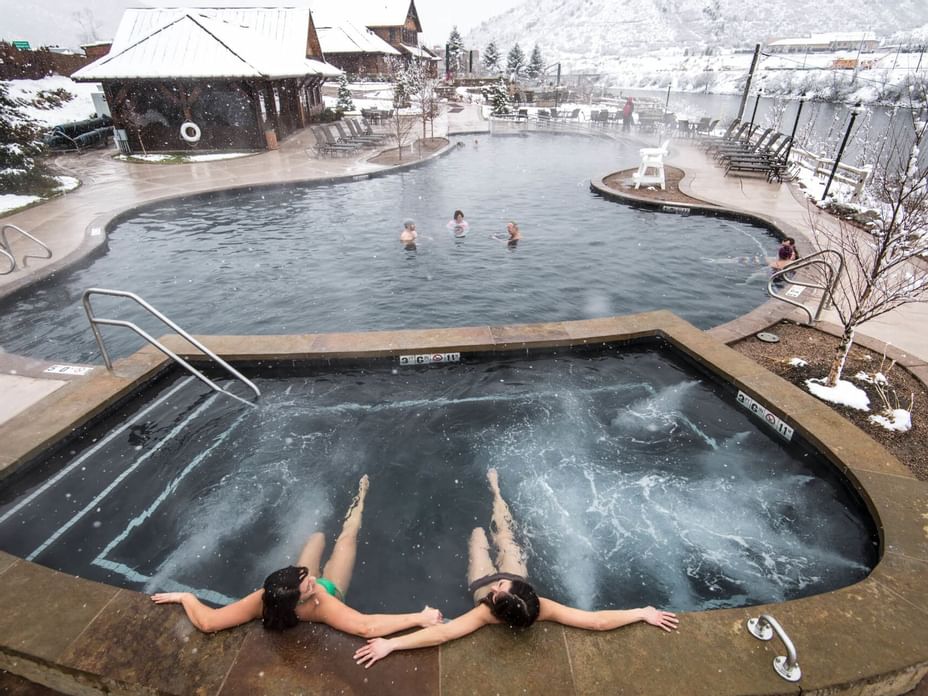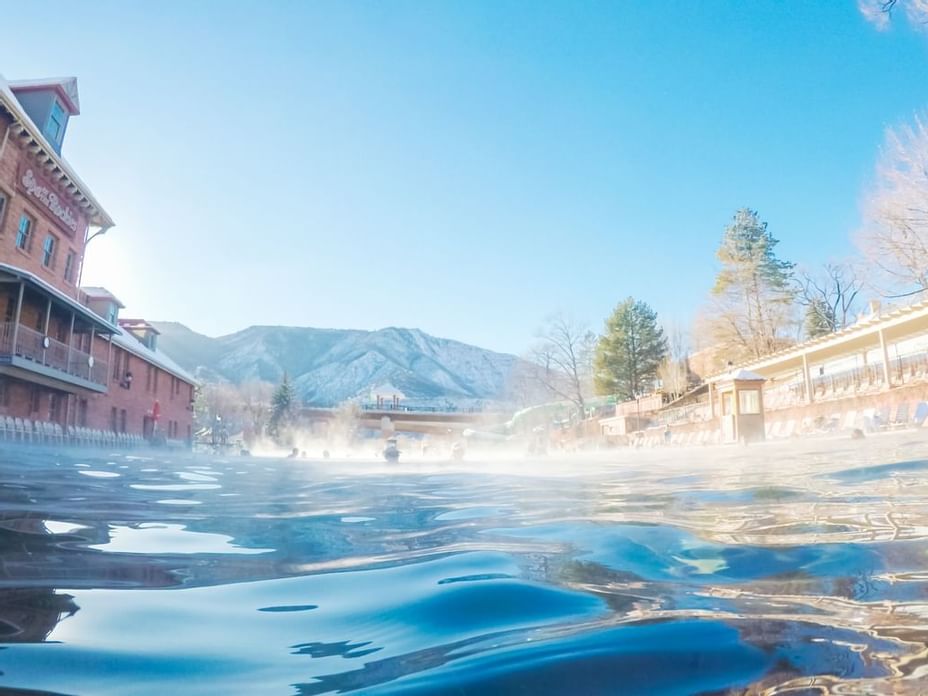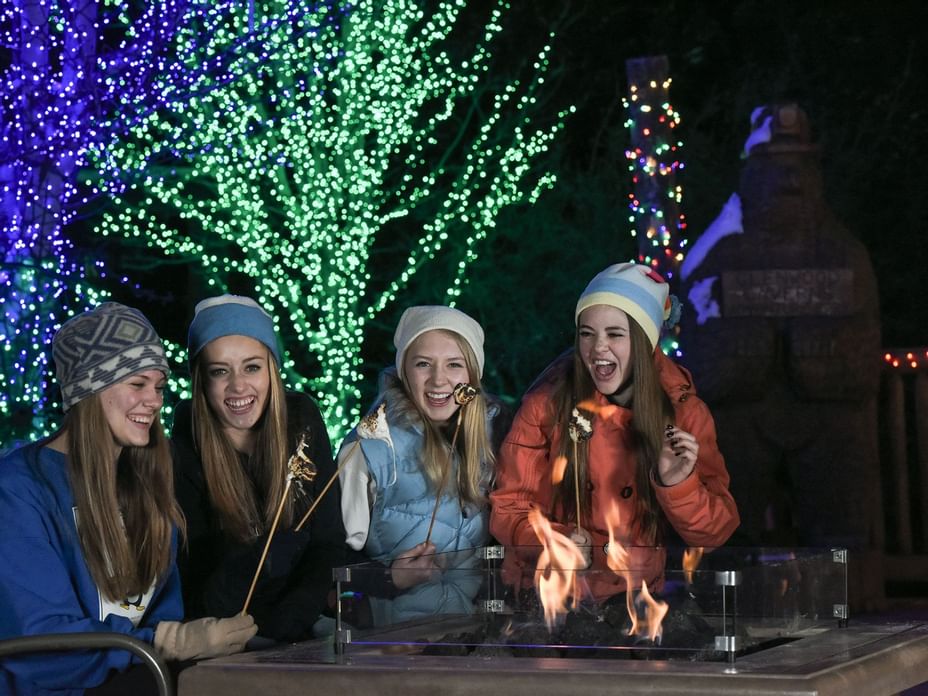 The holidays are singularly spectacular in Glenwood Springs. Not only do all of Glenwood Springs' top attractions—multiple hot springs and a mountain-top theme park—continue to delight visitors in winter, but Sunlight Mountain Resort is also open for blissful days of uncrowded Colorado skiing. In keeping with the holiday spirit from November through the New Year are many opportunities for families to gather for joyous occasions, as well as to spread and share good will and cheer.
Glenwood Springs is Winter Hot Springs Heaven!
When it comes to wintertime family fun, Glenwood Springs is Colorado's let's-go-relax destination. With three hot springs amenities, the mountain town brings the heat even on the coldest days. Glenwood Hot Springs Pool is a splash-worthy landing pad for outdoor fun. Despite the snow, kids can play all day long in the bathwater warm temperatures of the big pool, while adults kick back and let the minerals work their magic on sore muscles in the therapy pool.
Across town, at Iron Mountain Hot Springs, soaking choices are plentiful and diverse. The riverside hot spring attraction features 16 soaking pools, each one a different temperature and shape. There's even a freshwater family pool for cooling off and an attached elevated spa with jets to target specific areas that need a little extra hydrotherapy massage.
For mineral heat without the water, Yampah Spa and Vapor Caves provides the opportunity to sweat it out—everything from tension to toxins—in all-natural steam caves. After your body is primed for relaxation, consider a massage or body treatment upstairs in the spa to fully bliss out.
Glenwood's hot springs are cornerstone vacation experiences you won't want to miss this holiday season.
Thanksgiving - Gathering, Giving Back & Great Meals
After the last 18 months, there's no need for complicated arithmetic to count blessings in a post-pandemic world. Still, Thanksgiving is a calendar reminder and a gut check to spend time together with loved ones, appreciate all that we have, and take the opportunity to give back to those in need.
An annual favorite family event at Glenwood Caverns Adventure Park, Winter on the Mountain kicks off on Saturday, Nov. 20, featuring live music, visits from Santa from 4 to 7 p.m., a Christmas tree lighting ceremony at 5 p.m., and the Coca-Cola Bear making continuous rounds for fun holiday photos. Stay warm and fueled up with food and drink specials throughout the event. Winter on the Mountain runs through Feb. 28, 2022.
Glenwood Caverns Adventure Park is once again hosting its annual Gondola Giving, a benefit for LiftUp, the local food pantry. The promotion runs from Nov. 20 through Dec. 24. Simply purchase a $25 gift card from City Market and exchange it at the Glenwood Caverns ticket office for four free Glenwood Gondola tickets that are valid from Nov. 20, 2021, to Feb. 28, 2022.
Skip the Thanksgiving shopping, cooking and cleanup. Instead, sit down to a chef-prepared Thanksgiving dinner at Hotel Colorado. The annual turkey day buffet is back, this time hosted in the stylishly renovated Devereux and Colorado ballrooms. For just $68 per adult and $25 per child, enjoy a traditional feast with all the trimmings. There are several seating times, and reservations are required.
Bright Lights, Small Town Glenwood Springs
One of Glenwood's most highly anticipated and family-friendly events is the Holiday Lighting Ceremony at Hotel Colorado. Guests have looked forward to the extravagant holiday decorations at the historic hotel since it first opened its doors in 1893 and to the annual lighting ceremony since 1989. This year is no exception; in fact, since last year's lighting ceremony was cancelled, the anticipation is higher than ever.
On Friday, Nov. 26, beginning at 3 p.m., the annual Hotel Colorado Lighting Ceremony takes place on Sixth Street in front of the hotel with additional holiday activities inside and in the courtyard. Onstage entertainment includes the Denver Dolls, Bag Pipers and Legacy Dance Company, followed by the countdown with Santa for a grand fireworks display at 7:15 p.m. from the Hotel Colorado Bell Towers. Guests can visit with Santa in the Devereux Ballroom, pose at the photobooth in the Garden Room, view a live ice carving performance in the courtyard and a gingerbread house display in the Roosevelt Room, and listen to the Symphony of the Valley performing in the Colorado Ballroom.
Holiday Highlights for Kids of All Ages
Glenwood Caverns Adventure Park. The high-altitude celebration, Winter on the Mountain, takes place at Glenwood Caverns Adventure Park from November through February and includes scheduled visits with Santa on Saturdays, Nov. 20 and 27, Dec. 4, 11 and 18.
Glenwood Vaudeville Revue. The renowned comedy house kicks off its winter season with all new hilarious material. The best show in Glenwood Springs, the Vaudeville's Holiday Show, opens on Friday, Nov. 19. Shows always sell out, so purchase tickets as early as possible.
Vaudeville Special Feature. On Tuesday, Nov. 30, watch The Grinch Who Stole Christmas as a family at Glenwood Vaudeville Revue. Cozier than a theater, you can enjoy snacks, dinner and drinks as you watch the spirit of Christmas soften the old Grinch's hardened heart.
A Grand Holiday. The City of Glenwood has hailed Santa and his reindeer for a stop in the hot springs town on the evening of Dec. 10. Grand Holiday festivities take place in front of the Garfield County Courthouse and include meeting Santa and his Nordic team of reindeer. Mingle with fellow revelers around fire pits with cups of hot cocoa and join in with professional carolers as they sing from the holiday playbook.
The Hotel Colorado. The festivities continue into December with Breakfasts with Santa on Sunday, Dec. 12 and 19 from 8 to 11 a.m. in the Devereux Ballroom. There will be a full breakfast buffet for parents and children to enjoy in the same room as Santa, who will be in his chair and available for photos during the allotted times. Photos will be taken through a photobooth with prints and digital copies available. The cost is $35 per adult and $10 for kids, including photos. Guests can round out the season with elegant Christmas Eve and Christmas Day Buffets. Seating times are available from 2 to 9 p.m., and the cost is $65 per adult and $25 per child. All costs are prior to tax and service charge. Reservations are highly recommended.
Shop Local and Skip Supply Chain Hassles
Will your holiday shopping packages make it in time or not? It's anyone's guess these days. Avoid the worry and hassle by shopping locally in Glenwood Springs. Nov. 27 is Shop Small Saturday, a day when local retailers go all out to make holiday shopping extra fun. With a mix of boutiques, souvenir shops, jewelry and sporting goods stores, it's easy to check off every item on your holiday shopping list and guarantee it's under the tree on Christmas morning!
For unique items, many of artisanal craftsmanship, be sure to check out Glenwood Springs Parks and Recreation Holiday Bazaar at the Community Center on Saturday, Dec. 4 and Sunday, Dec. 5.
Sunlight Mountain Resort Keeps Families Smiling
New snow, new season! Sunlight Mountain Resort is a family-friendly ski area for good reason. Not only are the lift tickets always affordable, but the resort is also designed so all trails lead to the lodge for easy meetups for lunch or at the end of the day. With 67 trails, Sunlight is ideal for families and groups with skiers and snowboarders of varying abilities. There's a half-pipe where shredders can show off their tricks, plenty of thigh-pounding bump runs, bunny slopes for beginners and expert terrain for those up for a challenge. In between are intermediate runs that welcome and challenge all ability levels. Non-skiers can have just as much fun in the snow at Sunlight Mountain. The resort offers several backcountry snowmobiling tours and provides all the gear you need to stay warm.
One of the best qualities of Sunlight Mountain Resort is the authentic friendliness of everyone from the parking attendants and lifties to the welcome ambassadors and food service employees. In a world where skiing has gone corporate, Sunlight Mountain is refreshingly unpretentious.
For families, Sunlight's Ski, Swim & Stay packages are unbeatable and an ideal way to bundle the best of Glenwood Springs: skiing at Sunlight, swimming at Glenwood Hot Springs Pool and staying at comfortable lodging in town or near the slopes. A highlight of the value-priced package is that kids 12 and younger ski free with a paying adult!
Flashy New Year Delights
Ring in the new year with a fireworks show! The City of Glenwood Springs pulls out all the stops for a dazzling midwinter fireworks display. Watch as a rainbow of colors illuminate the night sky, adding to the festive feeling on the eve of a new year.
From November through the New Year, Glenwood Springs is a winter wonderland of family fun. Make your reservations to relax, play and participate in a holiday experience like no other in Colorado!
Download the official Glenwood Springs Travel Guide
Blog coutesy of Visit Glenwood