Motorcycle-friendly Hotel Colorado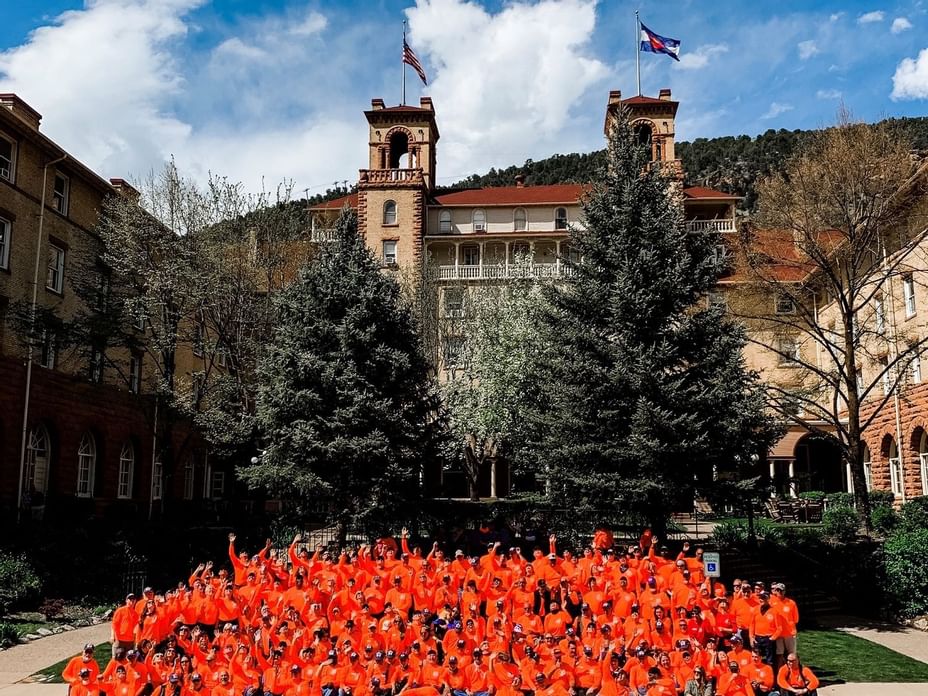 Good weather, scenic drives and the lure of the open road; it's motorcycle touring season in Colorado.
Best known for its hot springs, river sports and mountain-top theme park, Glenwood Springs is also on the radar of motorcycle enthusiasts. The mountain town is both a destination and a starting point for spectacular scenic mountain rides, and the Hotel Colorado is at the center of it all. Ample motorcycle parking behind the hotel, a helpful and welcoming staff, as well as proximity to attractions make it the ideal pit stop for a night or a few days.
In May, the Hotel Colorado hosted former NASCAR driver and NBC Sports racing analyst Kyle Petty, who found the accommodations just right for the 25th anniversary of his Kyle Petty Charity Ride Across America. Petty and his group of 250 riders rumbled into to town on their way through 11 states to raise money for chronically ill children. "This year's route is special because we're bringing back a few of our favorite Ride stops from past years, like Glenwood Springs," Petty said. The riders took over the Hotel Colorado, booking every available room!
For more typical, smaller groups of riders, the Hotel Colorado is a perfect hub for a nearby drive along Colorado's Top of the Rockies Scenic Byway. The 190-mile round-trip route takes riders through some of the most majestic landscapes in the state, including Independence Pass near Aspen and past Twin Lakes, over Tennessee Pass from Leadville down to Minturn near Vail and back to Glenwood Springs through Glenwood Canyon.
During your stay at the Hotel Colorado, be sure to swing into Doc Holliday's Saloon in downtown, a local hangout for motorcycle aficionados since the 1970s. Before the wing-street closure along Grand Avenue and Seventh Street, there was always a least one or two gleaming hogs parked out front of the drinking establishment famous for its neon pistol sign and its Doc Holliday memorabilia. For those who want to give their legs a stretch, visit the quick-draw gunslinger's grave marker in Linwood Cemetery, a short walk on the Doc Holliday Trail near town.
After a long day's ride, nothing feels as good as a rejuvenating soak or steam. The Hotel Colorado is just steps away from the Glenwood Hot Springs Pool and the Yampah Vapor Caves. Glenwood's newest geothermal attraction, Iron Mountain Hot Springs, is just a few minutes' drive. Soothe road-weary muscles in the geothermal waters or take a natural steam bath to tease out any post-ride tension.
Another option is to spend your evening hours with a nightcap at the Hotel Colorado Restaurant & Bar, where there's live entertainment every Friday and Saturday evening. During the summer months, take your late-night libation under the stars at the Coppertop Bar, the hotel's outdoor patio in the courtyard. For dining and drinking al fresco, it's almost as invigorating as the open road.
Kick start your best ride of the summer with a stay at the Hotel Colorado, your motorcycle-friendly hotel in Glenwood Springs.