Clear Out The Cobwebs With Spring In The Mountains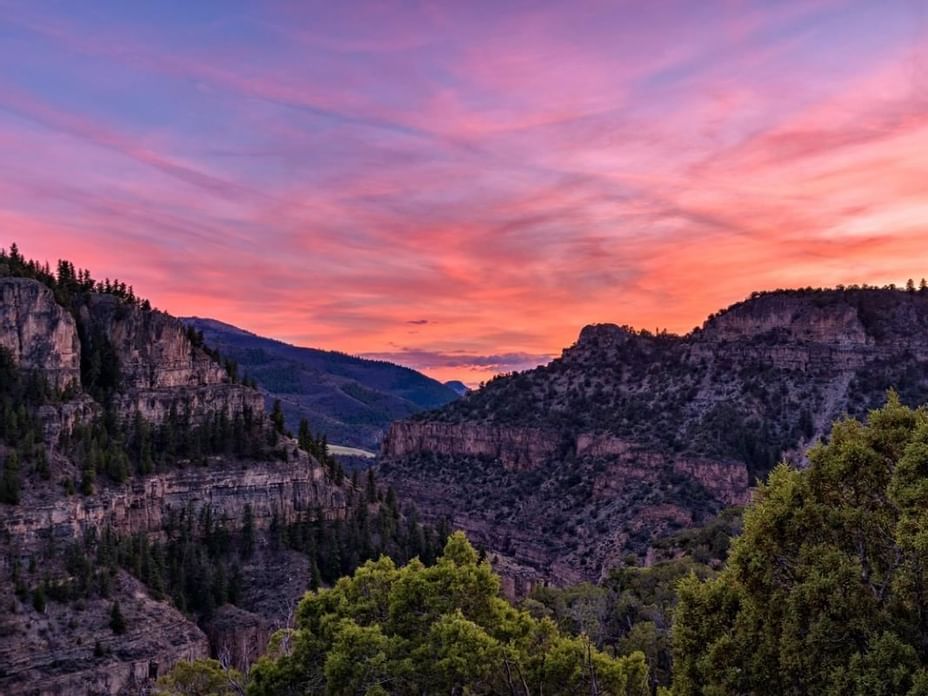 It's been a long and snowy winter in Colorado and everywhere else — one of the wettest on record, in fact! With all the snow and clouds we've had, you're probably itching to get back outside. Well, spring is finally here! The days are longer, warmer, and sunnier, so we put together a few ideas for outdoor activities you haven't been able to do while you've been cooped up all winter.
Keep The Colorado Weather In Mind
Any local can tell you that spring weather in the mountains is unpredictable — it can be 70 and sunny one day, then snow the next — so bring clothes for every occasion! It's also a good idea to be flexible with your vacation plans since you don't know what kind of weather you'll run into — luckily, Glenwood Springs is full of shops, art galleries, restaurants, and coffee shops to pass the time if the weather's not to your liking.
Take A Relaxing Soak In The Hot Springs
Glenwood Springs offers two amazing hot springs and they are always in season! Whether you're warming up on a day of chilly spring snow or soothing your sore muscles after a long hike, there's never a bad time to visit one of Glenwood Springs' famous naturally heated pools.
Glenwood Hot Springs Resort is one of the most famous hot springs pools anywhere, and with good reason — this million-gallon pool is the largest naturally-heated pool in the world, fed by hot springs that bubble up over three million gallons of water a day out of the rocks beneath Iron Mountain. The resort also features a 103-degree soaking pool, luxury spa, and a gift shop.
New on the scene, Iron Mountain Hot Springs is just a few minutes farther west down the Colorado River. Instead of one big pool, Iron Mountain Hot Springs offers 16 smaller pools that vary in temperature from a balmy 95 degrees to a stress-melting 105 degrees. The pools are connected by heated stairs and walkways and separated by tasteful local landscaping, providing you with a much more intimate experience.
Book a pool package with Hotel Colorado today!
Experience The Mountains With A Hike
You can hike in the area around Glenwood Springs all year round, but April is when the snow starts to melt and temperatures start to rise, so it's a great time to get outside!
Probably the most famous hike in the area is the Hanging Lake Trail, which starts from a rest area a few miles east up Glenwood Canyon and climbs up Dead Horse Creek to pristine waterfalls and sparkling lake, perched high among the cliffs of Glenwood Canyon. The trail totals 3.2 miles to the lake and back and steep in places, so it's sure to get the blood pumping!
Starting May 1, 2019, Hanging Lake will be on a permit system and require reservations. Check out this blog post from Visit Glenwood! There will be a shuttle service during the peak summer season that leaves from the Hanging Lake Welcome Center in Glenwood Springs. Click here to make your reservations!
Grizzly Creek trail is a moderate trail that's a lot of fun for all levels of hikers, climbing 1800 feet and four miles each way. You'll see beautiful canyon views, lush forests, and wild raspberries at the right time of year. Since Grizzly Creek trail is not as well know, it's not nearly as heavily trafficked as Hanging Lake or Red Mountain.
Go For a Bike Ride
The Glenwood Canyon Recreation Trail is just as much fun on a bike! It's wide and smooth so riders of all levels can get out and enjoy the sunshine, and it stretches a full 18 miles through the scenic Glenwood Canyon, so you can go for a nice long ride if you're feeling ambitious. Bring your own bikes or rent some in town at Canyon Bikes!
For a longer trail experience, check out the Rio Grande Trail, which runs from Glenwood Springs all the way to Aspen, 42 miles up the valley. The trail is built on an old railroad track, so it's completely protected from traffic except at intersections. You can ride the whole thing from end to end, or drive up the valley and jump in somewhere in the middle! Whichever you choose, you'll find a smooth trail, quiet riding, and beautiful views in every direction.
Enjoy The Rivers
Warm weather means melting snow, and that means the Roaring Fork and Colorado Rivers are starting to pick up steam! Colorado has 322 miles of "Gold Medal" fisheries, and over 50 of them are within a short drive of Glenwood Springs. Fly fishing season starts in March and runs all the way to early November, so now's a great time to get out and fish. Later in the summer, higher runoff makes for muddier waters, so spring is the perfect season to break out your rod and reel.
Rafting season is right around the corner! From lazy, sunny floats west of New Castle to the adrenaline rush of paddling the mighty Shoshone Rapids, the Colorado River is the perfect mix of adventure and fun for all ages! Rafting gets going in early May, so check out our Rafting Package on our website.
Go For A Scenic Drive
Not feeling up for a strenuous activity? Or maybe it's just a tad too chilly out for hiking? We understand. Luckily, you can still get rid of that pesky cabin fever and soak in the beauty of the mountains from the comfort of your car.
The Maroon Bells Road winds up 20 miles from a roundabout near Aspen, ending at Maroon Lake, where you can see the majestic peaks reflected in the pristine water. There's even a trail around the lake so you can get out and stretch your legs. The road opens in late May, but the exact date is dependent on weather.
Independence Pass is a stunning mountain pass, topping out at over 12,000 feet above Aspen. Well above tree-line and with breathtaking views in every direction, Independence Pass is the highest paved pass in North America! Along the way, you'll see aspen groves, granite cliffs, beaver dams, and the ghost town of Independence, once a thriving gold mining town. The pass usually opens on Memorial Day weekend.
Whether you're looking for a relaxing weekend or a blood-pumping adventure, Glenwood Springs has plenty of options for you to spend a long weekend. Book your trip today, and get out in the Colorado sunshine!