Destination
Attractions and Activities Abound
Glenwood Springs is a nature lover's paradise. Long prized for its healing natural hot springs, the town is encircled by the White River National Forest and is located just miles from world-class fishing, skiing, hiking, and more.

Glenwood Canyon, Glenwood Caverns Adventure Park, Iron Mountain Hot Springs, Yampah Hot Springs, and the Vapor Caves are all within your grasp when you make Hotel Colorado your destination.

Whether you're skiing Colorado's famed powder, hiking, mountain biking, climbing, golfing, or exploring historic Glenwood Springs, you'll delight in our corner of the Western Rockies.
Explore Downtown Glenwood Springs
Downtown Glenwood Springs features spas, museums, shopping, galleries, coffee shops, and more. Don't miss an opportunity to explore this hidden gem of the Rockies.

Bring a group to the Glenwood Escape Room, meander through the Farmer's Market in the summer months, and while away the afternoon in Glenwood Springs' beautiful boutiques, galleries, bookstores, jewelry shops, and candy stores. After a day spent exploring, come back to the Hotel Colorado for handcrafted cocktails, local brews, and tapas, or visit a local microbrewery.
Adventure at Your Fingertips
The White River National Forest provides endless opportunities for hiking, biking, and exploring. Whether you're looking for a casual half-day hike or a rigorous, day-long experience, you'll find no shortage of gorgeous, awe-inspiring trails.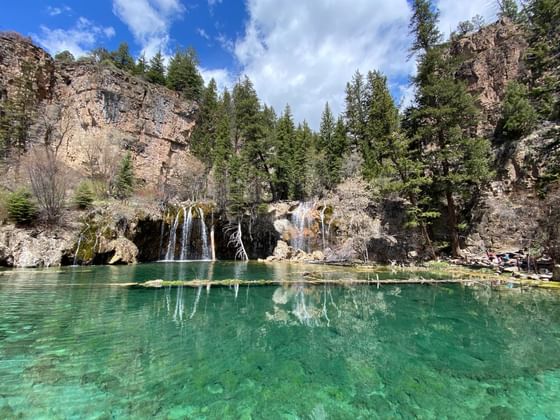 Hanging Lake
Located only 10 miles from Hotel Colorado, Hanging Lake Trail is one of the most popular hikes in all of Colorado! Sitting in the spectacular Colorado River-carved Glenwood Canyon, the Hanging Lake Trail is a must-stop along this scenic patch of highway. Make plans to hike this National Natural Landmark - you won't want to miss it. Reservations are required to help us keep this magnificent environment protected and able to be enjoyed for years to come.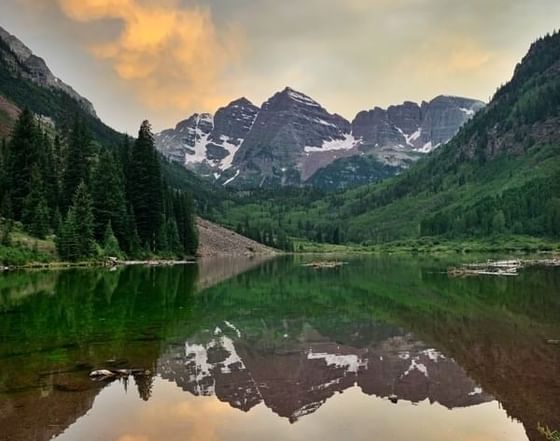 Maroon Bells
Located about 45 miles from Hotel Colorado, the Maroon Bells are the most photographed mountains in North America. The 14,000-foot bell-shaped peaks reflect in the crystal clear lake below. The Maroon Bells Scenic Area features several hiking trails ranging from short hikes near Maroon Lake to longer overnight backpacking trips into the Maroon-Snowmass Wilderness. Because the natural landmark is so popular, there is limited access to the area during the summer and fall, and reservations are required to visit by car or shuttle.