Plan An Enchanting Wedding At Hotel Colorado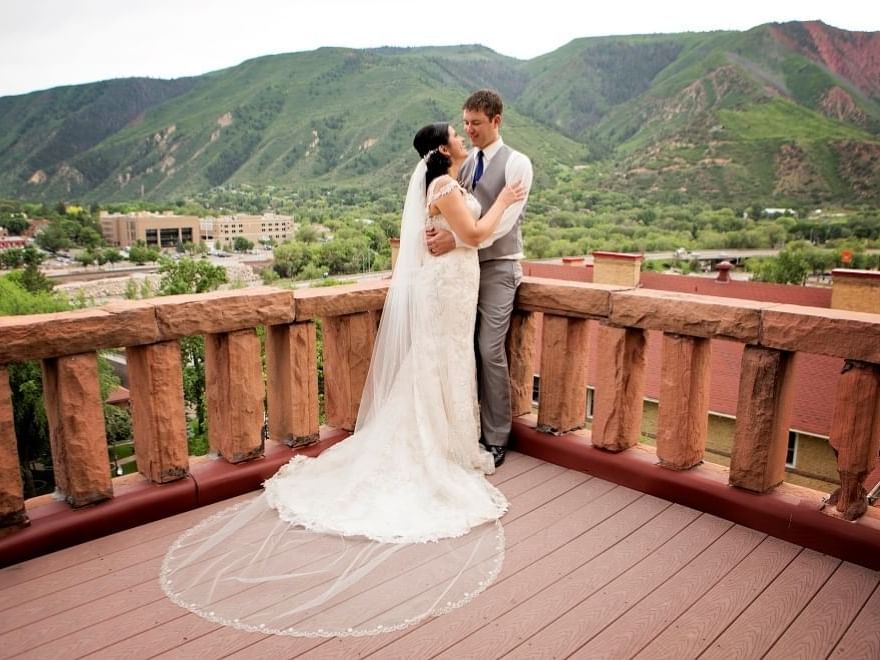 Your wedding is one of the most important days of your life, and you want every detail to be magical. But planning a wedding is notoriously stressful, and you shouldn't have to pull your hair out over the little things when you can leave the planning to our legendary service instead.
Hotel Colorado has been creating unique mountain wedding memories for more than 125 years — you can rest assured that every little piece of your wedding will be painstakingly planned and crafted to give you the special day you've always wanted.
Custom Cuisine Tailored To Your Exact Tastes
Chef Aaron Haga, our award-winning in-house talent, will consult with you to create a unique, tasteful menu that will delight you and your guests — whatever your tastes, every menu item from appetizers to main course will be expertly prepared to give you the culinary experience that your big day deserves.
You can choose from our sample menus, with courses designed to complement each other throughout the course of the meal, or design your own, working directly with our catering crew and kitchen staff to customize every bite.
Inspiring Versatility For Any Season
Our majestic hotel has been around for over a century and is sure to captivate your guests at any time of year. In the spring and summer, our courtyard fills with flowers. The crisp air and sparkling fountain create a sense of wonder, making the perfect romantic backdrop in warmer weather.
In winter, the backdrop transforms into a vista of snow-capped mountains, sparkling lights on every tree, and cozy decorations around every corner of the hotel to charm you and your guests. No matter the weather, we offer five well-appointed special event rooms to accommodate up to 250 guests. Take a tour — it'll be love at first sight.
Accommodations For Everyone Important To You
Our hotel contains 130 guest rooms, from spectacular multi-room suites to cozy bedrooms to family rooms where parents and children can stay close together. Our suites will be the perfect place for you and your partner to relax after a long day of merrymaking, replete with chocolate-dipped strawberries, chilled champagne at the bedside, and gorgeous mountain views from your window to put a bow on your special day.
Your guests will delight in our historic hotel, reading the history of the famous guests who have walked our halls and enjoying the service and well-appointed rooms on which we pride ourselves.
Our Commitment To Service Is Unmatched
Your wedding day is a day to celebrate your love in front of the friends and family you hold dear, not a day to fret over little logistical details. Whether you're tying the knot, renewing your vows, or celebrating a special anniversary, our staff will be on hand to deliver an exceptional experience.
Our dedicated wedding coordinator will work with you directly to bring your vision to life, being mindful of every detail from drinks to flowers to cake. So say goodbye to the stress of planning your most important event and say hello to a magical Hotel Colorado experience.