Stay At Hotel Colorado For The Winter X-Games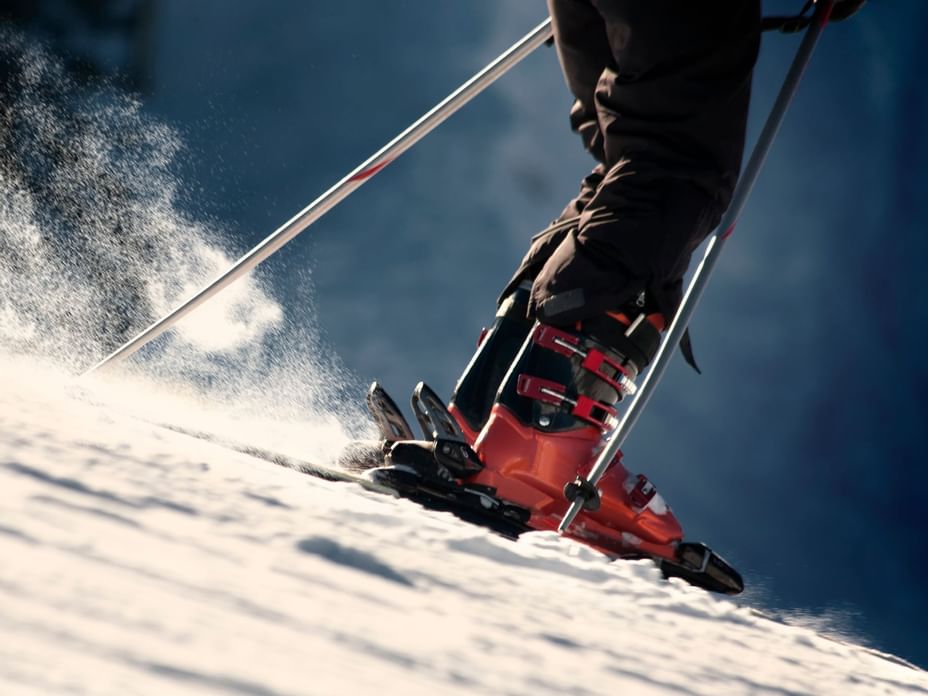 The Winter X-Games are right around the corner, and they're coming back to Colorado! For the 17th year in a row, Buttermilk Mountain will be hosting the world's best mix of action sports, music, and the festival experience — on snow!
What's On Tap For The Weekend
If you've never been to the Winter X-Games, it's worth the trip. More than 200 of the best winter sports athletes come together for the greatest display of snowsports talent this side of the Olympics — and it's a close second.
Besides getting up close and personal with some of the most exciting spectator sports on the planet, the weekend is filled with special events, appearances from premium vendors, and musical performances by Lil Wayne, Louis the Child, The Chainsmokers, and Kygo.
Stay In Glenwood Springs For Easy Access
If there's one downside to the Winter X-Games, it's the crowds. Aspen only has a permanent population of about 7,000, peaking at around 25,000 in peak season in summer. The X-Games will bring in at least 100,000 in one weekend, filling hotels and restaurants and making parking and transit a pretty big hassle.
Glenwood Springs is only about 35 miles and an easy drive from Aspen, so you can still get into town quickly and easily for all the sports, music, and skiing you want, but without the huge upcharges on lodging that will come along with the crowds in Aspen.
If you don't feel like driving, the Roaring Fork Valley has a very robust public transport system that can get you from Glenwood Springs to Aspen for just $7 each way. And since the bus is allowed to use its own lane, it's just as fast as driving, if not faster! You can enjoy Aspen's nightlife to your heart's content, then just hop on the bus and head back down the valley.
Other Things To Do In Glenwood Springs
Just because the main attraction is in Aspen doesn't mean you can't round out your weekend with one of Glenwood Springs' many attractions!
If you want a soak in a hot pool, Glenwood is the place to be, hands down. Glenwood Hot Springs Pool offers more than 33,000 square foot of naturally heated pool, whether you want to splash around with the kids or just soak in peace. Yampah Vapor Caves will open your pores and melt your stress away. And the Iron Mountain Hot Springs offer a more intimate, romantic hot springs setting, with 16 individual pools of varying temperatures.
If you want to get your heart rate up, try snowmobiling! You'll see your fair share of snowmobiles at the X-Games, but that doesn't mean you need to do backflips on yours to have an amazing time. There are snowmobile tours all over the Glenwood Springs area, from the woods on the backside of Sunlight Mountain to the mesas to the west. Experience thrills and astounding views all at once with a snowmobile ride!
If you want to ski without the huge crowds and high ticket prices of the Aspen or Vail resorts, check out Sunlight! Sunlight is smaller than the big mountains but offers a huge variety of terrain — from the gentle rollers of Ute on the western side of the mountain to the startling steeps on the East Ridge — the steepest lift-accessed runs in the state.
Glenwood Springs also boasts a wide variety of restaurants, from romantic dinners for two to a cozy brewpub full of comfort food and local craft beers to a quick slice of pizza. No matter what you're looking for, you'll find it in Glenwood Springs.
So don't worry about the crowds, noise, and high prices, when you could avoid them all! Book the Hotel Colorado for your X-Games weekend!