Why You Should Get Married In Glenwood Springs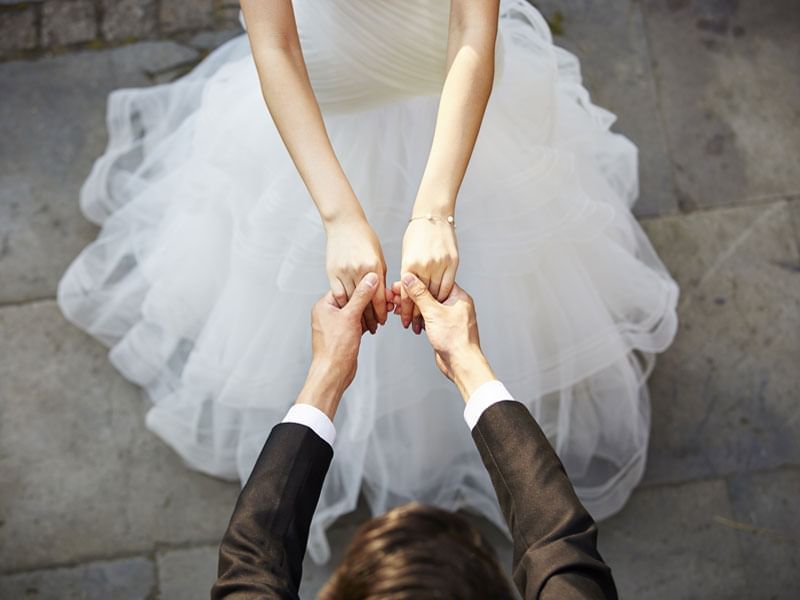 So your big day is coming up, and you're looking around for the best place to have it. Well, look no further. The little mountain town of Glenwood Springs has everything you need to make your special day as special as possible.
Year-Round Availability
On average, Glenwood Springs experiences 239 sunny days a year — almost two-thirds of the year! That means that no matter what time of year you choose, the weather is likely to be smiling on you.
Summers in Glenwood aren't too hot, usually topping out in the 80s in July, so you can have your beautiful ceremony in the brilliant Colorado sunshine without worrying about overheating.
Winters are mild compared to similar high-altitude mountain towns. If you feel like braving the temperatures, there are some gorgeous year-round outdoor venues in the Glenwood Springs area, including our very own courtyard!
The shoulder seasons are probably your best bet, though. Crisp, clean mountain air, gentle temperatures, and a wide variety of activities for you and your guests to enjoy.
A Luxurious, Stress-Free Venue at Hotel Colorado
Of course, if you choose to have your wedding ceremony or reception indoors, Hotel Colorado is perfectly equipped to cater to your every need. You shouldn't have to stress over every detail of your big day when you can leave it to our legendary service instead.
Our Wedding Sales Manager will work directly with you to choose a unique menu that will be a delight to you and your guests — a tasteful spread that will hit the spot no matter your tastes or preferences. Every menu item will be expertly prepared to create the culinary experience that your wedding deserves.
Whether you want your ceremony to be indoors or outdoors, Hotel Colorado is the perfect location. In the spring and summer, the shady courtyard fills with flowers and the sound of our glittering fountain, making the perfect backdrop for a magical, romantic ceremony.
In the winter, the view transforms from green hillsides to snow-capped mountains, twinkling lights, and cozy, festive decorations scattered throughout the hotel for a holiday flair that will charm you and your guests. We also offer five event rooms that hold up to 250 guests — whether you just invite close friends and family or decide to go for the big blowout, we have the facilities and expertise to create the perfect setting for your special day.
Hotel Colorado also offers 130 guest rooms, from cozy bedrooms to picturesque multi-room suites to family rooms where parents and children can stay close together. Group rates are available, along with a complimentary night in one of our Signature Suites for the bride and groom on wedding night.
Activities For All Ages
Of course, your wedding celebration isn't just about the big day itself — you want to enjoy yourselves up here in the mountains!
For the adventurous among your group, the Glenwood Springs area offers a wide array activities and attractions all year round. Miles of trails for hiking and biking wind through the mountains and canyons nearby — both paved and dirt, perfect for all skill levels and ages.
Glenwood Caverns Adventure Park is a must-do family attraction, complete with guided cave tours, amusement park rides, kids activities, a gift shop, and the famous Lookout Grill — or just wander around and enjoy the views from high atop Iron Mountain!
In warmer weather, you can book a guided fly-fishing trip on the gold medal waters of the Roaring Fork River. Speaking of rivers, white water rafting is one of the biggest draws to Glenwood Springs in the summer. From family-friendly float trips to the class IV Shoshone Rapids, the mighty Colorado River offers adventure for everyone!
Glenwood Springs is a cozy little town full of restaurants, art galleries, coffee shops, souvenir shops, and other amenities all within walking distance of the hotel — in fact, Glenwood Springs was once named one of "America's Most Walkable Cities!"
Don't Forget About The Hot Springs and Spas!
When you think about Glenwood Springs, you probably think of hot springs — after all, it's in the name!
The Glenwood Hot Springs Resort has been in service for over 130 years and boasts the largest naturally heated pool in the world at over 405 feet long, containing more than a million gallons of 92-degree mineral water. There's also the therapy pool, heated to a soothing 104 degrees, complete with chairs and benches to let you relax and wash your troubles away.
Glenwood Hot Springs Pool is also equipped with a spa, offering massages, facials, body wraps, and two unique rituals inspired by the Ute tribes that used the hot springs for medicinal purposes hundreds of years ago.
Iron Mountain Hot Springs is also nearby, just a mile up the road from Hotel Colorado. Sixteen individual pools are heated to a range of temperatures from 98 to 108 degrees by the mineral-rich natural hot springs at the base of Iron Mountain, so you can relax and rejuvenate based on your preferences.
Iron Mountain Hot Springs also offers on-site meals, snacks, and refreshments and is open year-round — heated walkways and native landscaping connect the pools and make for a quieter, more relaxing experience while you watch the sunset over Red Mountain.
Whether you're looking for a small wedding or an extravagant party, a relaxing spa day or a weekend of adventure, Glenwood Springs has everything you need to make your magical day as memorable as possible!